The IZA Africa Desk is focused on the promotion, support and marketing of zinc in all its applications in Africa and more specifically in Southern Africa. The largest proportion of refined zinc used in South Africa and Africa, is utilized in hot dip galvanizing plants and in continuous galvanizing plants. While much smaller quantities of zinc are utilized as an additive to grain fertilizers, in zinc die cast metal components, as a catalyst for vulcanizing rubber tires and in the preparation of zinc ointments and medicinal lozenges.
The IZA Africa Desk offers the construction, civil engineering and agricultural sectors expertise in the application and detailed specification of galvanized steel, galvanized wire and continuously galvanized steel sheet for buildings, fencing, reinforced concrete and structural steel.
Engineers and designers can call on the IZA Africa Desk to assist them in selecting the correct zinc coating for their civil or mechanical engineering application.
Zinc coatings are potent weapons in the fight against corrosion of steel in deep mining, coastal steel structures, as reinforcement in concrete and on atmospherically exposed steel structures.
Thermally sprayed zinc, zinc rich paints, aluzinc coatings on steel sheet and galvanized steel are all examples of the multi-faceted application of zinc as a powerful corrosion protection medium.
The IZA Africa Desk offers enrichment seminars / webinars on the use of zinc to protect steel against premature corrosion and offers electronic and hard copies of its various IZA Africa publications such as:
* Essentials of galvanizing
* Rapid Guide to Galvanizing for Consulting Engineers
* Zinc Matters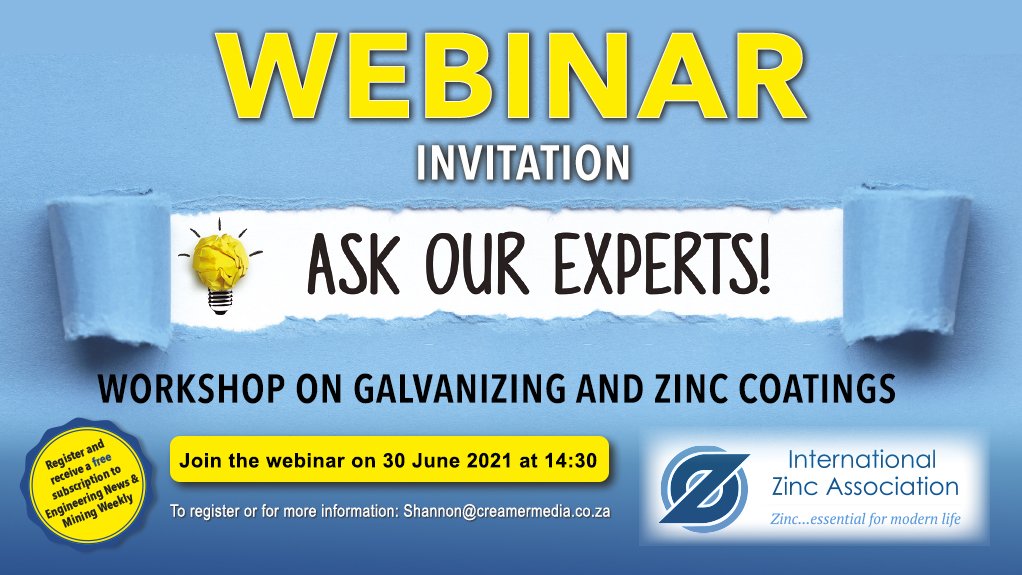 The International Zinc Association's (IZA's) Africa Desk will present an expert workshop webinar on galvanizing and zinc coatings on June 30, 2021 at 14:30, where professional engineers can earn CPD points.
The webinar aims to provide attendees with a comprehensive introduction to the IZA, while expert speakers will offer their insights into hot dip galvanizing, zinc rich paints and zinc thermal sprays.
In South Africa it is becoming critical to utilise capital expenditure, be it privately funded or state funded, in a very cost effective manner. To this end the design and construction of steel structures that will be exposed to the atmosphere at the coast, in deep mining applications or as part of ships and marine equipment, must be such that a long operational life is obtained.
The design and construction must be of such a nature that the steel does not suffer premature corrosion and fail leading to costly replacement and equipment downtime. In South Africa there is extensive ignorance in the engineering profession of the capability of zinc based coatings to provide long term corrosion protection of steel.
This webinar will offer practicing consulting engineers insight into the specification and application of zinc based coatings. In particular, it will focus on zinc rich paints, their composition, selection and pitfalls, the advanced specification of galvanized steel and the who and what of zinc thermal sprayed coatings on steel structures such as wind turbine towers.
The speaker list includes Simon Norton of the IZA, Terry Smith, expert consultant on hot dip galvanizing and coated structures, and Weartech director Adam Wintle. They all have extensive experience in their respective fields of expertise and combine nearly 60 years of knowledge in corrosion protection, galvanized steel structures and applied coating technology.
By the end of the webinar the delegates will have a clear idea of the roles of each of these zinc based coatings in engineering practice and where to apply them.
All registered attendees will receive a free subscription to Engineering News & Mining Weekly as well as a free copy of the IZA's Zinc Matters, which provides an overview of zinc primers. Professional engineers can also earn CPD points by attending the webinar.
Interested parties are encouraged to send any corrosion specific questions or comments to shannon@creamermedia.co.za. Your questions will be shared with the experts for an interactive discussion during the webinar.
CLICK HERE to register 

IZA – Africa
Email: zinc@iafrica.com